So you've decided to start a blog? Good for you. But you don't know where to start? I got you covered in this post.
Here's a complete guide to show you how to start a blog in very easy steps.
This post contains affiliate links which means when you purchase anything from the link, I get a commission at no additional cost to you.
What is a blog?
A blog is an online journal or information website displaying information in the reverse chronological order, with latest posts appearing first.
Why start a blog?
Have you ever wondered why you need a blog? Perhaps you think blogging is overrated? You need to think again.
Here are some reasons why blogging might be perfect for you.
A blog will make you a better writer and thinker
Blogging isn't just about what you know but also how you write. The more you write as a blogger the more you become a better writer.
It is a creative process and you only get more creative as you do it.
Establish you as an expert
Blog is a tool that can establish you as an expert in your niche or whatever topic you decide to write about on your blog.
The fun part is that you really do not need to be an expert to start your blog, all you need is to create great content with your unique point of view and style.
And with proper research, you can create contents that are helpful.
A blog makes you a better researcher
No matter how much you know on a topic, you still need to research on your topic before writing a post.
You have to read and prepare properly before completing your post.
Blogging cannot be done alone, you need to collaborate with other bloggers and influencers in your niche.
You can also build your own fans and followers throughout the world and also influence and inspire them with your contents.
Make money and get other incentives
You can monetize your blog if you wish and also build a brand popular enough to get incentives.
If you are able to build your brand as an influencer, you would definitely get freebies depending on the niche you choose.
But none of these will happen if you do not start a blog. Let's learn how to start a blog.
Beginner's guide on how to start a blog
1. Find a niche / Decide what to write about
Your blog niche is your blog purpose. What your blog revolves around.
Some say, you have to find a niche and stick to it but I do not believe in that but I understand how important it is to have a niche.
Instead, I advise you decide on what to write about on your blog. It doesn't have to be a thing, it can be two or three as long as it interests you and you are ready to learn and become an expert in it.
However, if you have a niche in mind, good for you. You need to narrow down your niche. The narrower your niche, the better your chances of building a successful blog.
Some questions you can ask yourself when trying to decide what to write are
You could be interested in taking care of yourself, you can start a blog to help people fall in love with taking care of themselves. Or perhaps you're interested in books, then start a blog reviewing books and maybe even interview authors.
Do I enjoy learning about this topic?
This is a very important question to ask because if you are interested in a topic, you will become naturally curious about it. You want to know more every time.
So, ask yourself do I enjoy learning about this topic?
Think of a topic that everyone come to you for answers when they are confused.
Don't let the word 'expert' stop you, everyone is an expert in a subject. I know you might still feel like you are not an expert. I'll tell you this.
As long as you have little knowledge in something, I won't believe if you said you have knowledge in nothing.
Ask yourself, what do I have little knowledge in. Find that and start a blog as you learn more about it and grow into an expert.
What area of my life do I want to improve?
Another question that can help you get what to write about is asking yourself what area of your life you want to improve.
Start a blog to share that area and your journey as you work towards improving it. The lessons you learnt, the products that worked for you and the ones that didn't.
You don't need to answer all these questions but if you do, I'm sure you would have figured out two or three topics you could write about on your blog.
Don't think too much, just follow the next step.
2. Get a domain name
If you've figured out what your blog will be about, it is time to get a domain name. The domain name will be the address of your website on the internet. Mine for instance is yomisblog.com.
There are millions of blogs on the internet, so you need to check if your intended domain has not been used, check its availability here.
There are over 400 different domain extensions to choose from. An extension is the ending of your domain e.g .com, .com.ng, .co and all comes at different prices.

3. Host your domain
Once you've gotten yourself a domain name, you need to a web hosting. You would mostly get hosting from the company you bought your domain.
So, you can get both your domain and hosting all at one place at cheap prices. I use a Nigeria web hosting company called Qserver.
They offer domain and web hosting at very cheap price and 24/7 customer's service to help you through technical issues.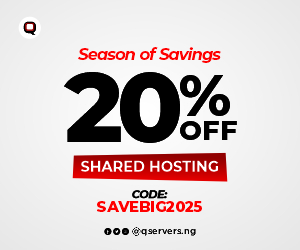 4. Install a blogging platform
After getting your domain and hosting, your blogging journey is about to kick off but it won't kick off without a blogging platform.
A blogging platform is where you can design your website, publish your post and do whatever you wish on your blog.
WordPress is by far the best platform for all bloggers. It is user friendly and offer lots of free tools that can help you build a successful blog.
For a comprehensive guide to install wordpress from softaculous on your blog read here.
Softaculous is an app that you will get in your control panel once you get a web hosting.
5. Use a wordpress theme
WordPress offers variety of free and beautiful themes that you can start with. You don't need to have any prior knowledge of web development. These themes will beautify your blog.
To use a theme, install wordpress (click here on how to install wordpress), go to appearance, then click themes and click add new.
Explore the different themes until you find one that suits your style and you can customize your themes as well.
Here are some free professional wordpress themes you can download for your site.
6. Install Yoast SEO plugin
It is time to optimize your site for search engines like Google. Go to plugin on wordpess, click add new and search for Yoast SEO.
Install it and click activate to get it set for your site.
Read this article by Neil Patel on how to correctly set up yoast SEO on wordpress
7. Write your first post
It is time to write your first post. Don't be nervous or scared, just write something simple.
Tips to writing your first post
Introduce yourself in it
Tell us what your blog will be about
Give us what to expect as time goes on
Tell us about your dreams, goals, and hobbies.
Write your first post from your heart not your head. Be free and enjoy the process.
Congratulations, your blog is now live.
Conclusion
Even though there are millions of blogs on the internet, there is a space for you. No one can take that space, you have to grab it.
Don't listen to the voice that says you are not an expert in anything or you don't have anything to offer, everyone has a gift to share with the world.
Start your blog today, learn and watch yourself become an expert in that topic you chose to blog about. These steps will help you start your blog.
Find a niche / Decide what to write about
Get a domain name
Host your domain
Install a blogging platform
Use a theme
Install Yoast SEO plugin
Write your first post
Are you having any difficulty starting a blog? Tell me about it in the comment box.
Do you have your blog already? Drop the link to your blog, can't wait to read your posts!