The thought of starting a blog can be really interesting but also frustrating if you don't know where to start or what to do.
If that sounds like you, then I've got you covered. In this post, I will share the most important things I've learnt in over five years of inconsistent blogging. I'm sure you will learn from few things.
Here's my backstory;
I started my first blog as a hobby. All I wanted to do was write and share with the world so I started a free blog (I don't advise people to use a free blog, you need a domain). I wrote mostly entertainment news and gossips just like the Nigerian popular blogger Linda.
The blog didn't live up to three months, I closed it and stayed away for a while. Then I opened another which also didn't run for long.
In space of four years, I opened over five blogs. Some I bought a domain, others were free.
During all those years, I wasn't just failing, I was learning. Learning how to blog properly.
Blogging is fun and lucrative but if you do not do it right, it can be frustrating.
Here are some of the things I wished I knew before starting a blog which can help you tremendously in your journey

Things I wished I knew before starting a blog
1. Domain/Web hosting
I wished I knew about domain and hosting, the two confused me a lot. As a blogger, you need to understand what it means to have a domain because it is actually the first step to becoming a blog.
A domain is the address where internet can find your website. You need to buy a domain name which will automatically be your website name. Example is yomisblog.com
To further simplify, a domain is like a house on the internet but it is a rented house. Meaning that your properties (pictures, articles and all) are not safe. It can only be safe with a host.
A web hosting is a type of internet service that allows individuals and organizations to make their website accessible via the World Wide Web.
It is more like the land your house (domain) will be on. It hosts your domain and the host company helps you keep the files on your blog safe.
There are lots of web hosting companies that offer you domain and hosting at a very cheap price. I use qserver for my hosting and domain. They are cheap and very efficient with 24/7 customer's service.

Click the banners to get your domain for less than 4000 Naira.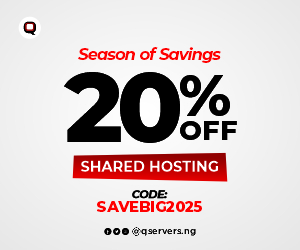 2. Blogging requires time
Although some people run their blogs part-time very successfully. But to do that, you need a great time management skill.
One of the best courses I have ever bought on time management is Eben Pagan. You can check it out.
Blogging requires your time, at least four hours a day working on posts and sharing and scheduling. Let me break it down.
You need time to research on a topic properly, yes you might be an expert in that topic but you have to do research for have a helpful and rich content.
Then time to write the blog post.
After writing, it definitely does not end there. You need to share it.
You need to engage with your readers as well.
3. SEO
Search Engine Optimization was the least thing I wanted to know about when I started. It never made sense to me no matter how hard I tried learning it but it is super SUPER important for bloggers.
Fortunately, I came across an English entrepreneur and SEO expert Neil Patel. Neil makes SEO and marketing look so easy for everyone.
Here's one of his posts on SEO.
I didn't need to become a SEO expert but with the knowledge I have now, I can make my blog posts rank high in search engines.
4. Blogging is a business
I didn't know blogging was a real business/career, it took me a while before I realized how lucrative the industry is.
Although you can blog as a hobby, in fact I do not advise people to start blogging because they want to make money.
Just like every business, you need a plan and you need to be consistent with your blogging business. I think that should be a bonus lesson. Blogging requires consistency.
5. Blog can be monetized in many ways other than Google AdSense
When I started my second blog, I wanted to make money. The only way I knew was Google Adsense, I heard about it from a blogger friend. So, I worked towards getting my blog approved through Google.
I read the policy and made sure I followed everything. Unfortunately, I got rejected not once but three times.
It discouraged me so I closed that blog.
When I started another blog, I realized Google Adsense isn't the only way to make money. Although many bloggers use it, especially beginner bloggers but Google gets thousands of blogs requesting to be approved daily so they cannot approve every blog.
Some other ways to monetize a blog are;
Affiliate marketing
Other Ad channels
Selling information
Selling Ad space
Sponsored Ad
6. If you can't find a niche, it is fine
One thing that has always bothered me was the term 'find a niche'. It is everywhere on the internet. You ever read an article that told you to find a niche and stick to it? Sure you have.
Here's the thing about niche
Popular Eben Pagan defined a niche as a need many people have that your product fills. A niche needs to be discovered. You go out and find a niche.
But what if you do not want to sell a product or even render a service?
What if all you want to do is share your mind? Then you won't blog because you can't find a niche?
Don't get me wrong. Telling you to find a niche is not wrong but I don't believe it works for everyone. Someone like me cannot stick to a niche, I've tried it on some of my closed blog. I got bored and wanted to share something else, so it doesn't work for me.
What do you do if finding a niche doesn't work for you? FIND AN AUDIENCE.
Yes, find an audience.
Start writing about whatever interests you. On my blog for instance, I write lifestyle tips for people with chronic illness, also teaching people how to blog.
It is fine if your interest changes overtime. I started by writing fitness posts and slowly got into what my blog is today.
Gradually grow your audience with consistent and rich contents.
7.You can't do it alone
The saying 'no man is an island' works everywhere including blogging.
I had always wanted to do it alone. Every new blogger would want to but I am telling you that you cannot do it alone and I write from experience.
You need to collaborate with other bloggers or influencers in your 'niche' or industry. When you collaborate with others, your blog gets traffic quickly.
One sure way to build traffic for new blogs is to do round up posts which involves featuring experts or influencers in an industry. A way of collaboration.
Another form of collaborating is by interviewing someone. Check out an example of an interview post here.
Read a complete guide of how to start a blog.
Conclusion
It doesn't matter how long you've been blogging, you keep learning and evolving. In as much as I hope this post educated you, I also hope it spurred you to take action.
Because taking action, starting your blog right where you are and with what you have or know is the only way to move forward as a professional blogger.
It will take time but it will happen. You would make mistakes but you would learn just like I and every other blogger has learned.
Here's a quick recap of what I learnt and wished I knew before starting a blog.
Domain/Web hosting
Blogging requires time
SEO
Blogging is a business
Blog can be monetized in many ways other than Google AdSense
If you can't find a niche, it is fine
You can't do it alone
I would love to read your comments so drop them below, ask me whatever question and I will respond as soon as I see them.
Also please follow me on Instagram